Artist: SLOK
Title: Rocco's Hard Scene Ep (Incl. Hermanez Remix)
Cat.: Circle029-6
Label: Circle Music
Release Date: November 2010
Format: 12″ Vinyl
Style: Tech House / Techno
Preview: PLEASE CLICK HERE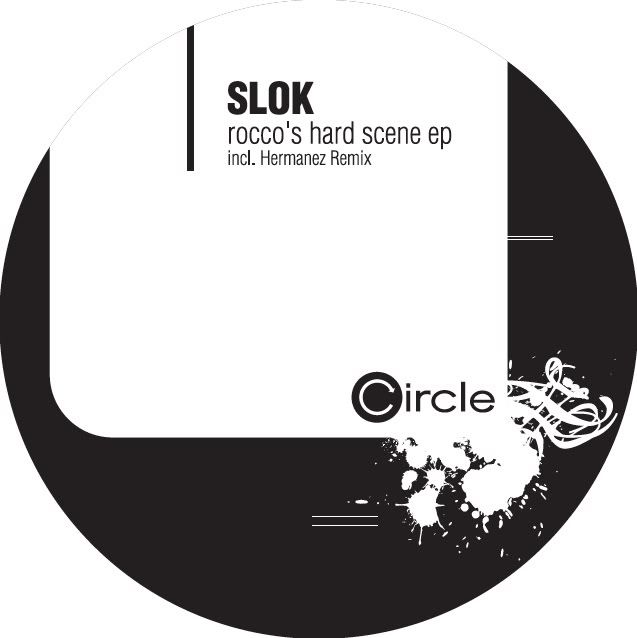 A1: Rocco's Hard Scene
A2: Hard Scene Part Two
B: Rocco's Hard Scene (Hermanez Remix)
Press Release: With his latest two Albums "The Fat Pasta Grooves" on his own imprint Electronic Petz, and "Rain", the Paris based DJ and producer Alessandro Russo aka SLOK was aslo able to follow up in quality and complexity to his in 2009 released tracks "Freak" and "Funky Finger" on Circle Digital this year. Now he comes around with his next tune "Rocco's Hard Scene". Hermanez, who recently rocked Circle Music with his "Locomotive/Snarey Business" release produced the ten minutes monster remix.
A1 – Rocco's Hard Scene: "Rocco's Hard Scene" aims at the heart of the dancefloors. It is quite obvious that the arrangement reminds to the big epoch of disco. With the funky e-bass and rhythmic guitar samples Slok, who had big influence on the italian Jungle scene by the way, again shows his instinct for accurate tracks in which he is able to move free with his intentions. Slok converts the sound of the 70ies into the sound of 2010.
A2 – Rocco's Hard Scene Part Two: What he did in "Rocco's Hard Scene" Alessandro Russo pushes to the next level in "Rocco's Hard Scene Part Two". This time the man who is the founder of the Electronic Petz imprint and one head behind Stereonova goes straight forward with a juicy melody and spoken vocals. Again a very funky bassline leads through the fleet-footed arrangement and grounds all the ecstatic elements.
B – Rocco's Hard Scene (Hermanez Remix): In his remix Hermanez does what he already did in his "Do You Cydonia" release on Kling Klong and his "Locomotive/Snarey Business" release on Circle Music of course: Creating breathless and progressive tech house music. His remix is a firework of ideas, emotions and levels. He takes the intention of the original track and converts it directly to the sound of these days.
Artist Info: SLOK |  Label Info: Circle Music