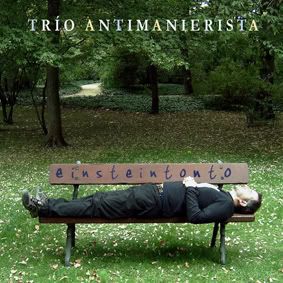 Artist: Trio Antimanierista
Title: Einsteintonto
#ca253
Date: 2009-04-29
Keywords: improvisation; experimental; other
Tracklist:
01 – Casting 6º – 2:51 (320 kbps)
02 – Luna De Miel – 4:37 (320 kbps)
03 – Domestic Tecno – 6:09 (320 kbps)
04 – Family Charanga – 3:00 (320 kbps)
05 – English Hideaout – 5:35 (320 kbps)
06 – The Rock From Xixona – 5:36 (320 kbps)
07 – Procession In B Side Of The Moon – 6:41 (320 kbps)
08 – Dancing Dogs – 3:52 (320 kbps)
09 – Los Virtuosos – 3:34 (320 kbps)
10 – Einsteintonto – 3:11 (320 kbps)
This new work of Trío Antimanierista is a transparent exposition of his antifacture in spontaneous creation. "Einsteintonto" is, perhaps, a pseudonimus of not-reason intelligence; an intelligence without directions, without prejuices… This record exposes a naked work of the little and sincere treasures recorded between December 2008 and January 2009, and composes a strange sountrack from rare and lonely places. Each track is a part of a foreing mistery. Each listener will compose his/her personal solution; without words and without "intelligence"…
Antonia Funes, David Díaz and Víctor Sequí plays not much instruments creating a kind of surreal poetry that is founded in the exactly moment of improvisation and interaction. After eight years of creation, TA have a telepathic microcosmo that can be shared with another persons around the world.
Antonia Funes: xilophone, cello, keyboard, castañuelas, kalimba and voice.
David Diaz: electric guitar, cello, wa-wa voice, armónica and armolódica de motor wa-wa.
Víctor Sequí: clarinet, percussions, melódicaand FM radio.
Recorded at Madrid. 2008-2009
Contact:
http://www.myspace.com/trioantimanierista
http://trioantim.blogspot.com
DL:
http://www.archive.org/details/ca253_ta
http://www.clinicalarchives.spyw.com