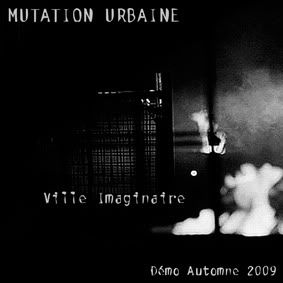 Artist: Mutation Urbaine
Title: Ville Imaginaire
#ca326
Date: 2009-10-30
Keywords: industrial; minimalist; ambient; other
Tracklist:
01 – Levres Silencieuses – 5:18 (320 kbps)
02 – Sensation de vide – 5:18 (320 kbps)
03 – Ville Imaginaire – 4:30 (320 kbps)
04 – Paysage Urbain – 1:48 (320 kbps)
05 – Lumiere Vagabonde – 7:59 (320 kbps)
06 – Rame Hantee – 4:29 (320 kbps)
Quiet Lips, suspended in emptiness, undulating and shimmering, fused with water and fire, gives us a feeling appeasing. Strange decor where reality and the fiction merge narrowly ; minimalist landscape evoking a Feeling of Emptiness, disquiet and sometimes of unrest. In the distance, is concealed an Imaginary City curiously beautiful and mysterious giving a disturbing glance and angelic. Behind this thick fog an industrialized and confined Urban Landscape appears in full development more each day. With a great amplitude, Light Vagabond scans the waves and propagates a soft melody which perpetually gyrates losing itself in the bowels of the city. In the depths of the underground galleries, a Haunted Subway Train, staggered in search of its distant past, tirelessly furrows the icy underground tunnels, to disappear into the dark night.
Le Hibou : Auteur, compositeur, interprète et arrangeur
instr. : guitare, basse, basse baritone, piano et M.A.O.
Contact:
http://www.myspace.com/mutationurbaine
DL:
http://www.archive.org/details/ca326_mu
http://www.clinicalarchives.spyw.com